Feather Lines; Whiting | Metz | Keough | Ewing | Collins | Darbee | RIR | Indian Necks | CDL | Bugger | Muskie | Variants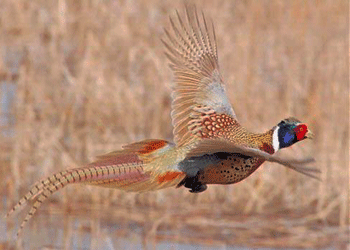 Ringneck Pheasant
The American Ringneck is a species unto itself, not resembling any original wild Chinese strain, this line has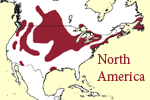 been crossed with so many subspecies to produce the perfect bird to shoot at. It is the perfect melting pot of pheasants, what scientists say represents a "stereotyped hybid swarm". Farms that breed them for release have genetically selected for a large, colorful, meaty bird that would rather fly than run, so hunters can get a good shot on opening day!
Phasianus colchicus


Tying with Ringneck Pheasant Feathers

One of the most under-used birds for artistic tiers is the ubiquitous Ringneck
pheasant. Many Mary Orvis Marbury patterns such as the Cleveland and the Maid Of The Mill bass flies and other.
Trout tiers know the pheasant tail nymph, wet fly wings, legs on hoppers and steelhead tiers have used rump feathers for throats and for long heron like hackles for a long time. Don't forget the hen for March Brown wings and wet fly wings.
Just as with Peafowl, many breeders have toyed with the elasticty of the Ringneck gene pool. They have isloated some vary interesting color mutations ranging from white to black menanistic.
Ringneck Rooster
$35.00

Dakota Roosters

These are nice clean, full skins, hand selected for color and size.

The tails are complete and unlike other skins, the wings are attached.

To see a larger image of the full skin, simply click on the picture of the left and a new window will open.

Grade #1 Full Skin / $35

Grade #2 Full Skin / $25

Grade #3 Full Skin - No Tail / $15


To check out, click the "view cart" button
Ringneck Hen
$35.00

Mottled browns and Tans

These are nice clean, full skins, hand selected for color and size.

The tails are complete and unlike other skins, the wings are attached.

To see a larger image of the full skin, simply click on the picture of the left and a new window will open.

Grade #1 Full Skin / $35
Ringneck Hen Cape
$17.50

All the small feathers

From brown to tan to white and even black, the small feathers on the neck and head of a ringneck pheasant have all the colors you'll need for tying the smallest soft hackle patterns.

Ringneck Hen Cape / $17.50
Full Tails
$7.50

Both Rooster & Hen

These are the tails from fully mature birds. Each tail clump is a full tail, right down to the smallest side tails.

Shortly I will be putting up the dyed colors so be sure and check back.

Rooster / $10

Hen / $7.50
Rump Patches
$5.75

Long Fibers!

These are the rump patches from the rooster. The feathers have long fibers that make nice material for tying spey and steelhead patterns.

Available in colors from Natural to dyed orange, brown, olive, and even black.

Rump Patch / $5.75


To check out, click the "view cart" button
Hen Wings
$7.50

Matched Pairs

Hen wing quills are called for in many wet fly recepies. I've pictured both the top and underside of the wings so you can see the color variantions.

These matched pairs will provide every size and color shade you'll ever need.

Looking for just a single wing, please specify which side if you have a preference.

Hen Wing / $7.50 each

Hen Wings / $12.50 pair
Rooster Wings
$5.50

Matched Pairs

Whether you're tying flies or training your dog, these will come in handy. I've pictured both the top and underside of the wings so you can see the color variantions.

These matched pairs will provide every size and color shade you'll ever need.

Looking for just a single wing, please specify which side if you have a preference.

Rooster Wing / $5.50 each

Rooster Wings / $9.50 pair
Chickabou Patches
$7.50

Matched Pairs

These are the softest fluffiest chickabou feathers and I can see why they are so popular.

The patch on the top is from the rooster and the lower is the hen.

Not all patches dry as nice and neatly as these two but they all have the soft beautiful feathers.

Rooster / $7.50

Hen / $7.50
Color Mutations
Black Melanistic Ringneck - SOLD
$65.00

Iridescent Feathers!

This is one of the arkest color mutations of the the Ringneck Pheasant. The feathers have a blue green iridescent quality.

Full Skin / $65
Crosses
Ringneck / Golden Cross
$125.00

Copper and Browns

The natural golden brown, laced with black makes this a very unique and beautiful feather.

These feathers are wide, webby, and as you can see in the picture, have nice round tips. The webbing is solid right up to the feathers edge.

Interestingly, the small feathers on the top of these capes transition to a black center with a golden brown edge. Perfect for small streamers or crayfish patterns.

Full Skin / $125


To check out, click the "view cart" button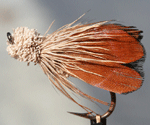 Moth Fly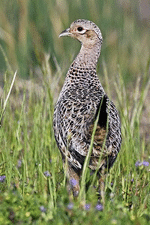 Ringneck Hen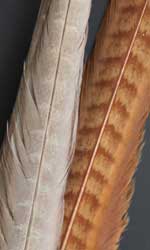 Color Mutations

Fly Patterns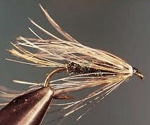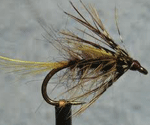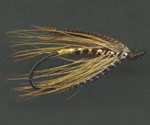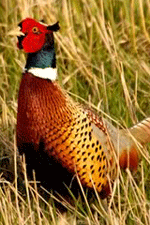 Ringneck Rooster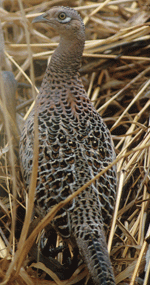 Ringneck Hen
- Links -
Must have feathers for
tying Soft Hackle patterns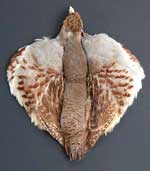 Partridge Skin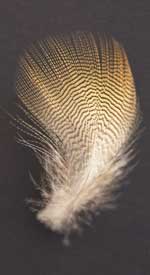 Lemon Wood Duck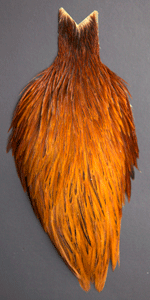 Hen Capes

Cul de Canard

Peacock Herl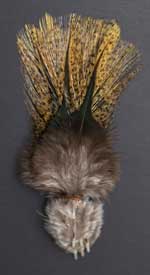 Coq de Leon Tailing Packs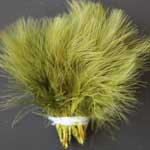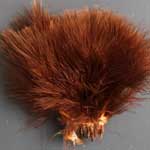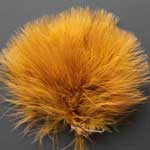 Marabou Packs
Golden Pheasant Tippets
---
Fly Patterns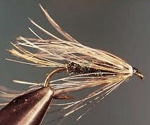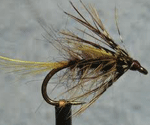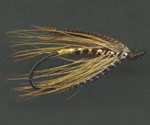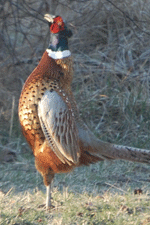 Crowing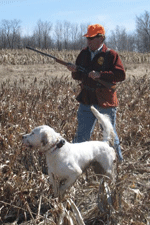 Opening Day