Feather Lines; Whiting | Metz | Keough | Ewing | Collins | Darbee | RIR | Indian Necks | CDL | Bugger | Muskie | Variants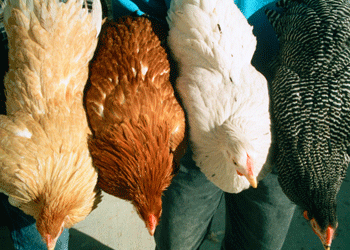 Whiting Hen Capes & Saddles
Over the past few years, soft hackle has seen a huge resurgence in popularity. When I go to shows, it is no longer uncomon to sell more soft hakle than dry fly.
The soft webby quality of the feathers quickly absorbs water, keeping your fly below the surface.
This line of hen is smaller and has long slender feathers in the neck. If you're looking for a larger, wider feather, check out the hens from my saltwater line. I offer them in natural and bright colors.
ginger, brown, white, and grizzly hens
11/11/2013 I've updated this page. The prices are the same but I've increased the selection. Please visit my new pages and order from there;
Hen Cape or Hen Saddle?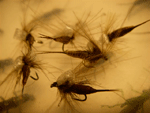 Hen capes offer the widest choice in sizes and colors . The feathers are long and narrow yet soft. One of the benefits of a hen cape is that the smaller sizes on the top of the neck have a stem long enough to give you a few wraps -even on the smallest of flys.
Hen Saddles on the other hand are a larger feather with rounded tips and a bit softer. Generally, you will only find a few sizes on a saddle. The fiber lengh is longer and a bit heavier than neck feather and when used as a collar, it gives the fly a nice full look.
*Many old soft-hackle patterns call for material no longer available. Species such as snipe and plover are protected under US Fish and Wildlife laws. The good news is that these hens offer a wide range of colors and fiber lengh perfect for tying these flies.
Soft-hackle Hen Capes


Check out the array of colors of these hen capes! The fibers are soft and the stems are flexible. The top of these capes are loaded with small sizes.

The best part is that you can see every color that I carry. No more digging through the bins, in search of the hard-to-find color hiding on the bottom.

Just click a tab below and see all the variety in that color range. Want to see a bigger picture? Click on one of the thumb nails and you can get an up-close look.


$30.00

best sellers
grizzlies
browns
duns
badgers & furnace
variants
Soft-hackle Hen Saddles


If you're burning wings, take a look at the dunns. If you're looking for a feather with longer soft fibers and a stem long enough to tie a good looking wooly bugger, check out the olives and blacks - these will fit the bill!

The best part is that you can see every color that I carry. No more digging through the bins, in search of the hard-to-find color hiding on the bottom.

Just click a tab below and see all the variety in that color range. Want to see a bigger picture? Click on one of the thumb nails and you can get an up-close look.


$15

best sellers
grizzlies
browns
duns
laced
variants
fly patterns