Feather Lines; Whiting | Metz | Keough | Ewing | Collins | Darbee | RIR | Indian Necks | CDL | Bugger | Muskie | Variants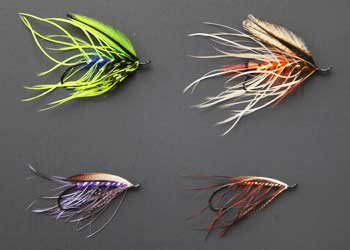 Whiting Spey Hackle
Spey flies are some of the most beautiful flies to tie. The long flowing fibers unique to heron hackle give these patterns a most distinctive effect.
Unfortunatly heron is no longer available. So Tom Whiting responded by genetically selecting for these long heron like fibers on a rooster.
Well after much work, he is getting very close. Who would of ever thought that a chicken could grow feathers like these?
Tied with Whiting Spey Schlappen - available in 12 feather Bundles

Tips for Tying with Whiting Spey Hackle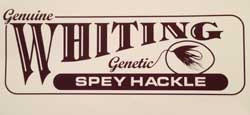 If you're a tyer who reads the forums, you know that this is a feather that some tyers love and others hate. If you understand how to tie with it, you're sure to love it. Try and get it to do something it was not designed to do, and you'll hate it.
Dr. Whiting has selectively bred this line for 3 distinct qualities. A heron substitute, a spey cock feather, and a marabou like feather with a longer stem for tying saltwater patterns such as the shrimp pattern you'll see below.
The almost "ratty" look of the spey cock tails is what makes these feathers so special. Unlike regular schlappen, the fibers don't completey marry. So when you tie with it, the long fibers give the unique look that you see in the flies pictured above.
Whiting Spey Capes
$45.00

Salmon

Feathers the like you've never seen before. More like fur than feathers. If you're tying saltwater patterns, these are a must.

Dyed salmon, you won't find a better material for tying shrimp patterns.

Whiting offers this color in both capes and saddles.

And as always, FREE SHIPPING

Pro Grade - $45.00

Bronze - $56.00


To check out, click the "view cart" button
Whiting Spey Saddles
$20.00

Salmon

Similar to the feathers from the cape, the fibers on a saddle are long and flowing.

The advantage of the saddle is that the feather are much longer and the stems are far more flexable.

Full Saddle - $20.00

1/2 Saddle - $12.50
Whiting Spey Cock Tails
12 feathers /

$17.50

Grizzly and Solids

Mr. John Shewey said these are the best spey cock tails he had yet to see.

No one has ever seen a true Spey Cock, but a few of the old flies still exist.

Tie a few of those old patterns with these feathers and you'll see what I mean, the fibers are almost identical.

You really need to give them a try!

Whiting Spey Cock Tails - $17.50
Whiting Spey Hen Capes
$25.00

Grizzly

The soft webby feathers on these hen capes quickly absorb water, keeping your fly below the surface.

Hen capes offer the widest choice in sizes and colors . The feathers are long and narrow yet soft.

One of the benefits of a hen cape is that the smaller sizes on the top of the neck have a stem long enough to give you a few wraps - even on the smallest of flys.

Whiting Spey Hen Cape - $25.00
Whiting Spey Hen Saddles
$15.00

Bird Fur

When people say "bird fur" they are usually refering to these hen saddles.

The term was originated by Steve Swietzer. At the time he was marketing director for Whiting Farms. The name stuck and today it is a popular feather that I sell a lot of at the shows.

Dyed red, it makes a very life-like gill on a minnow pattern.

Whiting Spey Saddle - $15.00
Soft Hackle with Chicabou - Spey
$15.00

Hot Pink and more...

This whole pelt is soft fluffly feathers. The top portion has feathers more loke the rooster saddles. The fibers are just not as long.

Available in both bright and natural colors, these are a great value for saltwater tyers.

Soft Hackle with Chickabou - $15.00
Free shipping on every feather!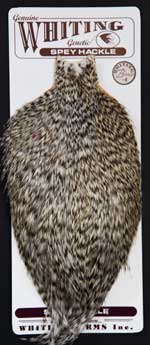 Grizzly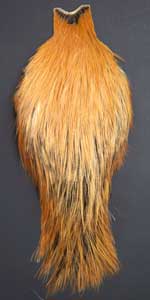 Ginger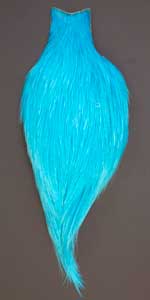 Silver Doctor Blue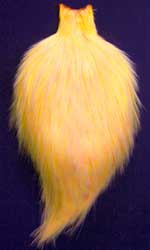 Yellow
Badger dyed Salmon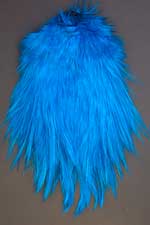 Kingfisher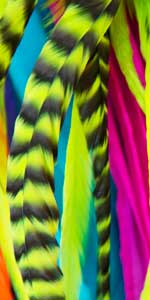 Schlappen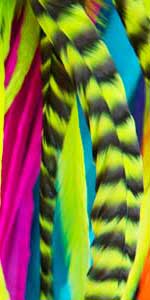 Schlappen
Orange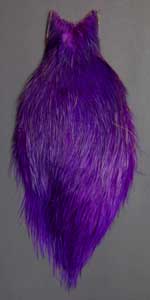 Purple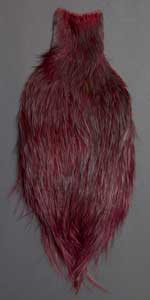 Claret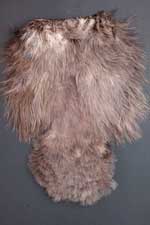 Heron Grey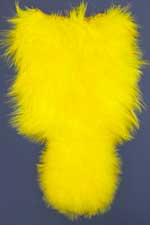 Yellow