Feather Lines; Whiting Farms | Metz | Keough | Ewing | Collins | Darbee Duns | RIR | Indian Necks | CDL | Bugger Hackle
Study Skins
More and more, I've been getting orders from collecters for study skins. They don't take up much room, don't collect dust, and they store well. No light, protected from bugs, the feathers retain their lustre far longer than a mount.
Many of the birds I work with are in such good condition, or so rare, that perserving them in study skin form is prefered. So I do prepare a few, but for the most part I take orders.
So if you have a list of favorites that you've been working on, or just starting a collection, check out what's here, that or contact me, I might just have one in the freezer - within reason anyway.
quite a collection indeed
Starting a Study Skin Collection?

It's every collectors dream to have their own private musium, archiving all their favorite species. Loose feathers, skins, study skins, and full mounts all having a place in a full collection.
Study skins are an important part of any serious collection, they preserve the shape and proportions of the specimen. The natural symmetry, or asymmatry of a bird can explain why certain feathers are shaped as they are and how they lay on the birds body.
So if you don't have one yet, now's the time to look into getting a collectors cabinet. Not much bigger than a dresser, you can comfortly store hundreds of favorites, ready at a moments notice for your discerning inspection
Working on this page - check back soon!
Pheasants
Junglefowl
Guineafowl
Waterfowl
Hookbills
Everything Else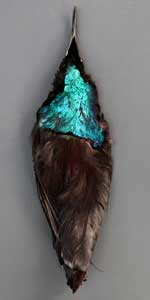 Magnificent Riflebird

Arial Toucan

Florican Bustard