Feather Lines; Whiting Farms | Metz | Keough | Ewing | Collins | Darbee Duns | RIR | Indian Necks | CDL | Streamer Capes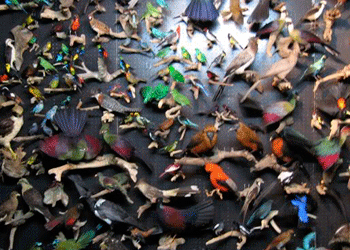 Mounted Birds
The Victorian era saw taxidermy reach new hights in popularity. Travelers to distant lands were returing with specimens the likes of which the world had never seen.
Adding to this, Mueseums of Natural History around the world began to build collections. Advances in technique and style by such masters as Peter Spicer, Henry Ward, and John Gould can still be seen in specimens displayed in mueseums today.
Today, taxidermy is an art form. The mounts are increasingly life like, and the methods and materials have continued to become ever more realistic.
softbill collection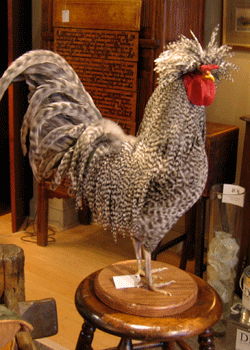 Caring for your Mounted Bird
When deciding whether to buy a full mount, many are concerned that it will be difficult to care for. On the contrary, depending on where you are planning to display it, simply dusting it with a feather duster will keep it in good shape.
There are a few things to consider when placing it. Avoid direct sun light. This will fade the bird quickly and take the luster from the feathers. Brightly colored birds are especially at risk.
Many of the birds we mount are placed on a shelf in a kitchen. The grease from cooking can take its toll. The easiest way to deal with this is to dampen a paper towl with fingernail polish remover and firmly rub the bird down. Feathers are extremely durable and these birds have been well preserved. With some simple care, you will be enjoying your mount for years to come!
Gallery I - Hackle Birds

These are the finest roosters on the market, each meticulasly selected by Dr. Tom Whiting himself. Each banded and comes with a signed certificate of authenticity.


hackle roosters
show birds
hens
exotics
Gallery II

This Gallery is also divided up into hackle roosters, show birds, hens and exotics. However, this collection of mounts are longer than they are tall.

As with other pages on this site, you can click through the tabs to view the thumbnails of the birds available for sale.

To see a larger image, simply run your curser over the thumbnails and a larger version will appear in the window on the left.

To learn more about a bird, click on its thumbnail. A window will open with a large view and a detailed description including dimensions and pricing.

Sadly, I'm not the best photographer and many of the images are not the best, so if you'd like more pictures before making a decision, don't hesitate to call.... and I'll be glad to send you more bad pictures!

hackle roosters
hackle roosters - page 2
show birds
hens
exotics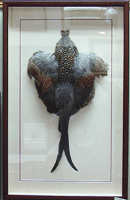 Custom Framed Displays
This is a project just in the begining stages. Some of the skins and feather I come across are absolutely flawless and to pick them apart would be a shame. So how better to enjoy them than to frame them and proudly display them in your tying room.
The skin in the picture is the first, a perfect captive bred grey junglefowl. Not a good picture, I took it in the framing shop with my phone. As this progresses, I'm planing on not only skins, but feathers too; matched pairs of Argus, feathers from all five species Fruit Crow, and perfect pairs of Red Tailed Black Cockatoo.
Many of these birds are increasingly hard to come by and it won't be long before we just will not have access to them. The continued restrictiveness of wildlife laws will ensure that that day comes soon.
Gallery III - Custom Framing

If there's a favorite feather or skin you'd like to add to your collection, please give me a call and I'll get to work on it!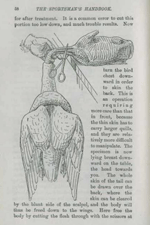 The Sportsman's Handbook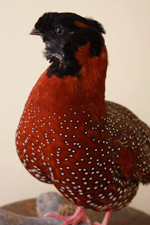 Satyr Tragopan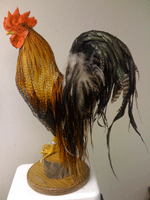 Dark Barred Ginger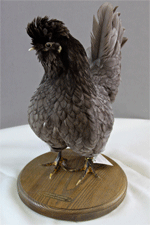 Sebright Hen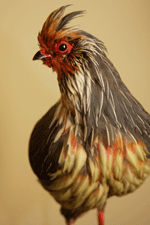 Blood Pheasant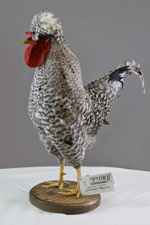 Grizzly Polish Rooster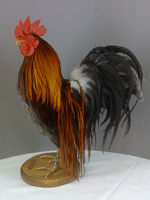 Dun Bodied Red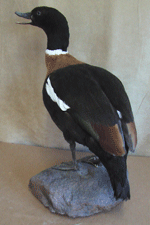 Australian Shelduck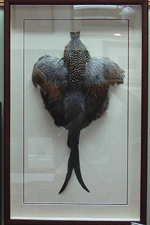 Jungle Cock Skin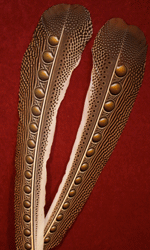 Argus Wing Quills