Order by Size: Super Skinny | Medium | Plus Size Feathers | Fat Feathers | Feather Drops | Tools & Beads | Feather Care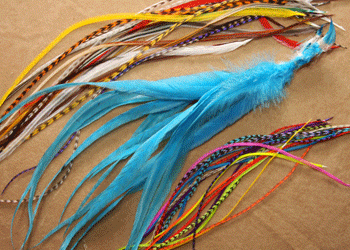 Super Skinny Fashion Feathers
Looking for something a little more subtle? These are perfect. They have the same patterns and viberant colors but are thinner and easy to hide.
Super skinny fasion feathers come in all the same colors as the med and fat feathers. They can be curled, washed and left in your hair for as long as 3 months.
So if you have thin hair or just looking for a feather hair extension that you can easily hide while at work or school, these are perfect!
Super Skinny Fashion Feathers are very thin. Check out the picture above, the bundle on the bottom right are the super skinny. Compare those to the bundle of the standard medium width Euro Hackle on the top left.
"Super Skinny" Starter Packs

Mixed Selection - 25 loose feathers / 5 Colors
$25.00

Not much thicker than dental floss, these feathers are so skinny that they almost look like hair!

For someone with fine hair, they are perfect. Curled, they look terrific. You can select up to 5 colors from any of the colors pictured in the Hot Colors or Earth Tones galleries below.

Whiting Farms "Super Skinny" Color Galleries
Bulk Pricing; Looking for more than just a few feathers? I have a few colors of "Super Skinny" fashion feathers starting at 50 cents - 100 feathers / one color.
HOT Colors Feather Gallery

These feathers are sold by the dozen - you will receive 12 loose "unbundled" feathers - all the same color. All colors are in stock for same day shipping.


dyed on grizzly
dyed on white
dyed on badger
new colors
Earth Tones Feather Gallery

Due to the overweming demand we are selling feathers by the dozen at this time. All colors are in stock for same day shipping.


grizzly
brown
duns
badger
other
variants
more
*Return Policy - If you receive your order and are not happy with it in some way, please contact me. There are absolutely not returns on fashion feathers including those including those sold on full or half saddles. Any returns will be charged a 15% restocking charge.
This is because a few have ordered saddles and after receiving them, plucked feathers and then returned them wanting a full refund. We can not count each feather on every saddle we sell, so there is no other way to deal this problem.
If you have ordered loose feathers such as feather bundles and not happy for some reason, please contact me immediatly and I will resolve the problem. I, in no way, want you to be unhappy with feathers you purchase from me.
Thanks, David 608-332-4220
For express shipping please call!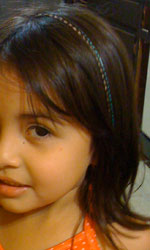 Super Skinny
Having a birthday party anytime soon, these will be a big hit with the kids!
Barred Ginger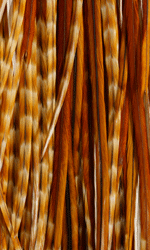 this has been our best seller for fall!
Add our stylist tool kit and 75 beads to your starter kit for just $35!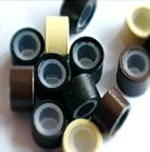 We carry 3 shades of the finest silicone beads
25 beads - $7.50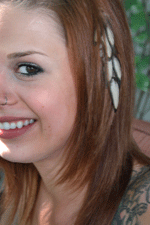 Be sure and check out our layered feather extensions!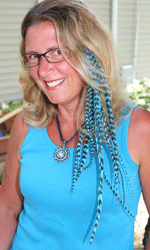 Take a look at these rooster tails, you can find them under fat feathers
Feather Braiders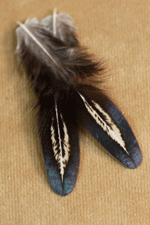 check out the amazing color and size selection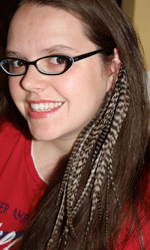 fat feathers 9" - 13"
popular colors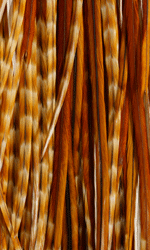 dark barred ginger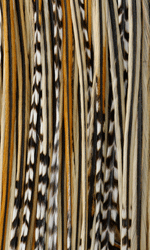 grizzly variant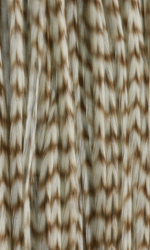 dun grizzly