Feather Lines; Whiting | Metz | Keough | Ewing | Collins | Darbee | RIR | Indian Necks | CDL | Bugger | Muskie | Variants
Chicabou & Matuka
After Henry Hoffman sold his prized line of dry fly birds to Dr. Tom Whiting of Colorado, he continued to raise chickens for their soft hackle.
He was pursuing a fluffy dense feather that would breath life into his soft hacke nymph patterns.
If you ever find yourself at a show in the North West, check to see if Mr. Hoffman is tying there. He is gentleman, happy to share what he knows, his tying station unassuming, but most importantly, he is a true master of simplicity.
Feather Lines - Whiting - Brahma - Coq de Leon - American - Laced - Spey.
3/11/14
This page has been updated. Please visit;
Whiting Soft Hackle with Chickabou
Thanks
David

Matuka Feathers
This tying style originated in New Zealand. The flies were known as "mutuku flies", named after the feathers from the Matuku Bittern which were originally used along with Kiwi feathers. Today both these birds are endangered and no longer available.
Somehow, over time, the name changed to "matuka". The best feathers for tying this style of fly are found on the breast of dry fly roosters. The feathers are long and wide with a round tip. The web is dense and extends to the edge of each feather.

Chickabou
The best way to describe these feathers is that they are mini marabou. They come from the same place on a chicken that marabou is found on a turkey. The fibers are soft and fluffy like marabou, however, the feather stem is a bit longer and stiffer.
The variety of colors and patterns are useful for everything from coldwater to saltwater patterns. Dyed grizzly colors make nice buggers, natural colors can be used as a sub to match a natural feather such as a bittern, and the speckled pattern on the laced birds has an especially buggy look.
---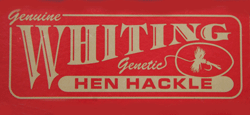 Whiting Farms Soft Hackle with Chickabou
These hen capes are from the Whiting and Hebert line. The nice thing about these hen capes is that even the small feathers are long, making tying small sizes a breeze.
I've grouped both lines together here. Increasingly, they are becoming hard to tell apart. The main difference is that the barring on the grizzly is tighter and more clear on a Whiting than a Hebert. And as with the rooster capes, there is a better selection of natural colors in the Hebert.
Natural Colors

$15For those of you who have met me a a show, this is the same high quality hackle at the same great price!

wild type
on white
on grizzly
laced
brahma


To check out, click the "view cart" button
Bright Colors

$15The assortment is always changing, but just give me a call and I'll be glad to hand pick what you're looking for.

on white
on grizzlies
on laced
coq de leon


To check out, click the "view cart" button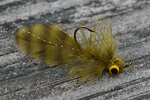 sculpin pattern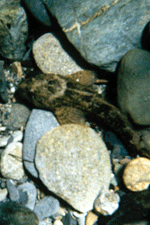 sculpin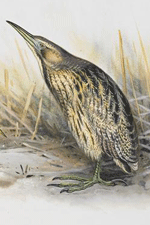 matuku bittern
Matuka Patterns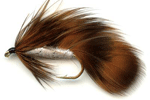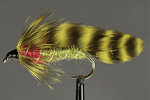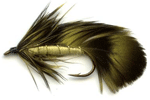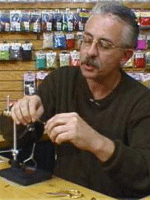 Bruce Derington at the tying bench
Bugger Patterns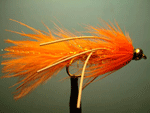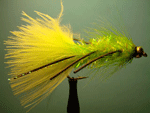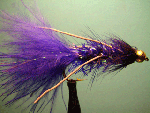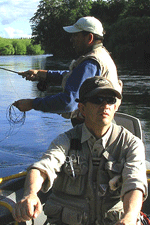 out for bass