Feather Lines; Whiting Farms | Metz | Keough | Ewing | Collins | Darbee Duns | RIR | Indian Necks | CDL | Bugger Hackle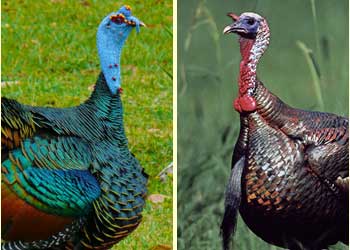 Ocellated / Wild Turkey Cross
Ocellated turkeys are the most sensitive birds to raise in captivity. Wild turkeys are unbelievably hardy. Cross them, and after a few generations you end up with the best of both birds.
Without a doubt, these feathers have an icredible mix of color and pattern.
From evey shade of tan to green, these feathers are beautiful! No two are the same, so if there is a specific shade or size, feel fre and call me.
Meleagris ocellata


Tying with Ocellated Cross Turkey Feathers

As turkeys go this is one gorgeous bird offering the tier huge possibilities. The copper wing coverts can be used for iridescent wing cases on stone fly patterns or for wet fly wings.
The grayish-brown mottled tail feather have often been used as an alternative to bustard in married wing or mixed wing salmon flies.
The body and rump feathers offer the artistic tier some beautiful choices for full feather wing salmon flies. Sections of the tips of the tail feathers can be used for tails on salmon and steelhead flies. Crafters will find untold uses for these feathers.
Feather Packs
Body Feathers
$0.00

Neck & Breast Feathers

These feathers have a complicated pattern of metalic green to almost pink. There is quite a range in size - very tiny ones up on the neck, larger ones on the bird's back.


To check out, click the "view cart" button
Shoulder Feathers
$0.00

Shoulders

These feathers have a rich irredescent blue-green color. For the most part they are all the same lengh, however, the feathers closest to the body begin to show some degree of barring.
Rump Feathers
$0.00

Rump Feathers

Further down the back, on the rump of the bird, the feathers begin to resemble tail feathers in color and pattern. However, the fibers are softer and the barbs are shorter. They range quite a bit in size, the shortest measuring less than 3", perfect for a wing on a fly.
Tail Coverts
$0.00

Tail Coverts

The color and pattern of these feathers is almost identical to the actual tail feathers. They vary a bit in lengh, ranging from 5 to 9 inches.
Tail Quills
$0.00

Tail Quills

The vermiculation on these feathers is not as tight as that found on an Ocellated. And as you can see, they are more tan tahn grey.

As with an Ocellated, there are 22 of these spectacular feathers in a full tail fan. The oceli on the tips are not as defined.

The feather to the right is an under tail covert. It is long, 10+ inches.

Tail Quills - click thumbnail to enlarge
center tails
pair #2
pair #3

pair #4

pair #5

$

$

$

$

$
Wing Covert
$0.00

Wing Covert

The fine vermiculation combined with the metalic green and bronze make this a spectacular feather

There is varying degrees of vermiculation. Those close to the body have more irredescent green cast to them.

They are approxamitly the same size as those found on an Ocellated.


To check out, click the "view cart" button
Collector Sets
Ocellated Cross - Collecter Set
$0.00

Complete set includes

Tails

center pairs - $

side tails - $

tail coverts - $

Body Feathers

wing quills- $

wing coverts - $

rump feathers - $

50 feather assortment - $


To check out, click the "view cart" button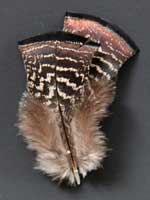 Neck Feathers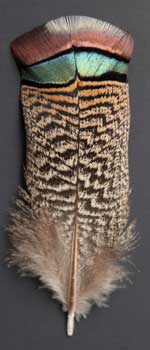 Tail Covert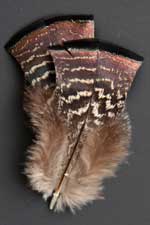 Breast Feathers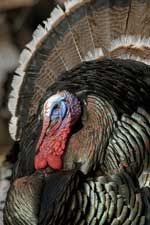 Wild Tom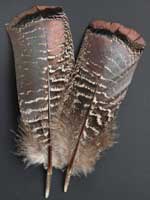 Bronze Wing Coverts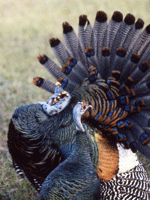 Ocellated Pair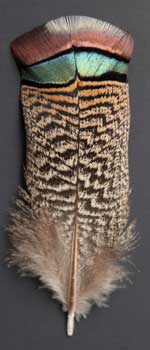 Tail Covert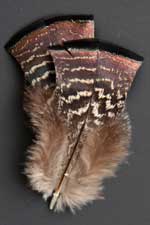 Breast Feathers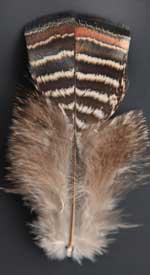 Neck Feather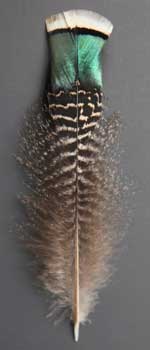 Tail Under-Covert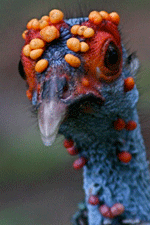 Ocellated head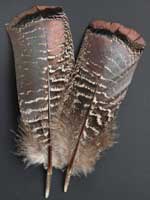 Wing Covert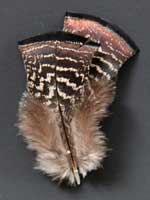 Neck Feathers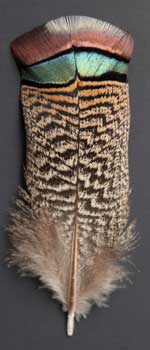 Tail Covert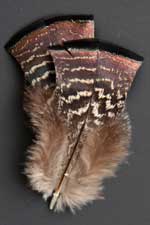 Breast Feathers