Feather Lines; Whiting Farms | Metz | Keough | Ewing | Collins | Darbee Duns | RIR | Indian Necks | CDL | Bugger Hackle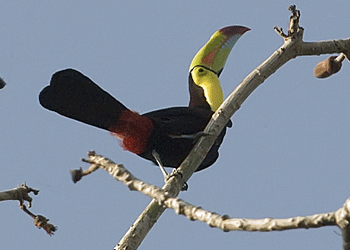 Toucan
Tucans are one of the few bird species that can snap their tail so far forward that it hits their head. As a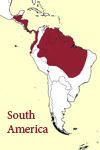 matter of fact, this is the posture in which they sleep, appearing as just a ball of feathers, with the tip of the tail sticking out over the head. Tucans make their nests in tree hollows, they are resident breeders and do not migrate. The colorful, giant bill is light, composed of bone struts and acts as a highly efficient thermoregulator.
keel-billed toucan


Tying with Toucan Feathers

Toucan breast feathers range in color from golden, to sulphur, to lemon yellow. Their uses are numerous for classic salmon flies as tails, body veilings, for the ever popular Jock Scott, and cheeks.
Also, the red and yellow over and under tail feathers are used for throats, tails and sides for salmon flies. When available the black wing coverts make great whole feather wings on a salmon fly giving a large black field on which to do other things.
THE BEST toucan substitute is dyed white toucan. Dyed in golden and sulphur colors it makes "real" toucan affordable. Steelhead and artistic tiers will relish in the dyed colors offered here for the first time. The possibilities are endless.
feather assortments
fly patterns
links to other softbills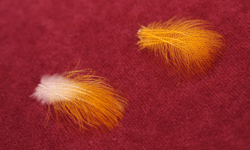 Ariel Toucan
The throat patch on an Ariel is a deeper gold color than on the rest of the Tucan species. These feathers are sorted into packages of 25+, both natural and dyed. Although not pictured here, I also have some of the red band feathers available.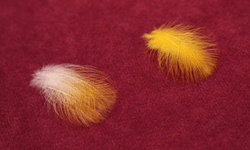 Keel-Billed Toucan
These feathers are the sulpher color found on Swainsons. The color of the dyed feathers, although a bit bright in the picture is a perfect match. Both natural and dyed are available in packages of 25+.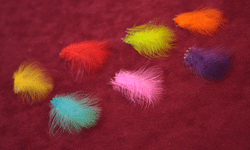 7 Color Assortment
Here is a rainbow of colors! Dyed to orange, purple, chartruese, pink, red, kingfisher blue, and yellow, this selection is not for the faint of heart. Also have some white available.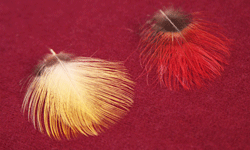 Over and Under-tail Feathers
The over-tails are actually tail coverts, and are a bright yellow. The feathers are about the size of a quarter. The under-tails are a bright red and larger that the red chest feathers.
3pr yellow overtails $30
3pr red undertails $20
I'm looking for pictures of flies and the recipies you used to tie them. Please give me a call or email me for more information.
Thanks!
Softbills

Whoever named this group of birds "softbills" was obviously never close enough to be pinched by a toucan or speared by a heron's beak!

Members of this group vary considerably. here you will find everything from turacos that feed exclusivly on leaves and petals to carnivores kingfishers.

However, one thing all have in common is that as babies, they are all born helpless and dependent on their parents care.


Softbill Species:



pond heron


Quick links to other exotics: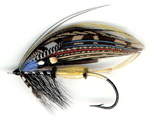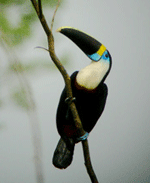 Cannel Billed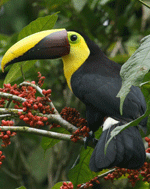 Swainson's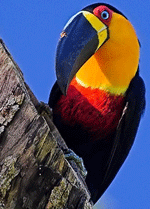 Ariel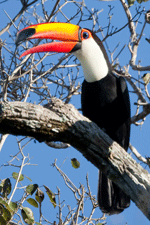 Toco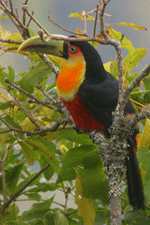 Red-Breasted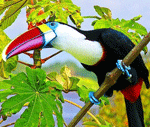 White Throated