Feather Lines; Whiting Farms | Metz | Keough | Ewing | Collins | Darbee Duns | RIR | Indian Necks | CDL | Bugger Hackle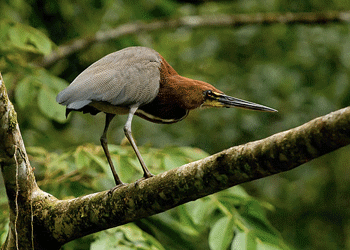 Rufescent Tiger Heron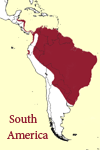 This most primative member of the family of herons get their name from the barring of the juveniles. They spend their days hiding in the undergrowth of riverbanks. They do most of their hunting at night, standing perfectly still, waiting for prey to approach. In Brazil they are called "cow "herons" because of their moo like call.
Tigrisoma lineatum


Tying with Tiger Heron Feathers

Absent from the tier's cabinet of feathers, these feathers have recently become available again.
Uses include hackling on salmon and steelhead flies, wings on the same and many new uses in the hands of creative tiers.
The hightly desired cinnamin hackles are found on the breast and flanks of a bird in adult plumage. The plumage first year birds is heavily barred, see the pictures in the sidebar.
feather assortments
fly patterns
links to other softbills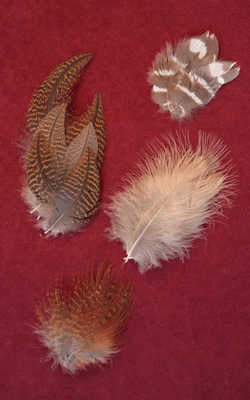 11 Pair Feather Assortment
Here I've put together a nice assortment of feathers from this bird; 3 pairs each from the shoulders, belly, and breast. The barred feathers are from the underwing and there are 2 pairs of these.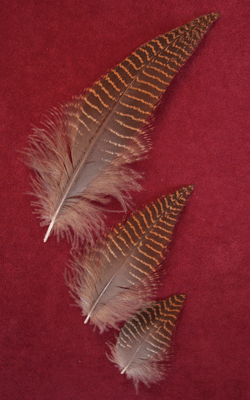 Tiger Quills
Check out page 20 of Paul Schmookler's book on materials. There you will see a picture of a feather like these. They from the shoulder of the bird and vary considerably in size.
large pair $18
medium pair $15
small pair $12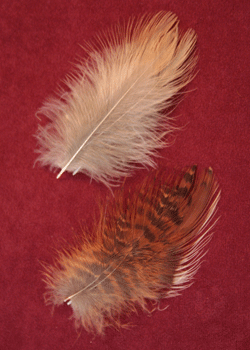 Cinnamin & Brown Assortment
These feathers are the belly and breast feathers from a heron in adult plumage. Check out the picture on the right to see where they are on the bird.
I'm looking for pictures of flies and the recipies you used to tie them. Please give me a call or email me for more information.
Thanks!
Softbills

Whoever named this group of birds "softbills" was obviously never close enough to be pinched by a toucan or speared by a heron's beak!

Members of this group vary considerably. here you will find everything from turacos that feed exclusivly on leaves and petals to carnivores kingfishers.

However, one thing all have in common is that as babies, they are all born helpless and dependent on their parents care.


Softbill Species:



pond heron


Quick links to other exotics: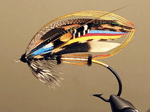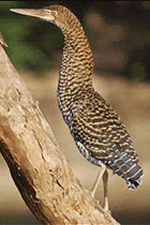 Tiger Heron
Juvenlie Plumage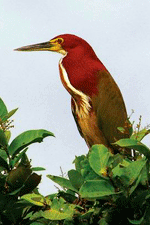 Tiger Heron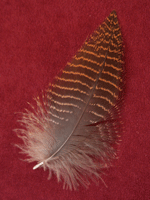 Barred Plumes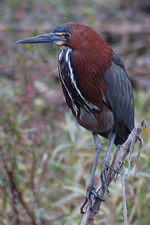 Tiger Heron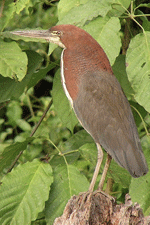 Mature Male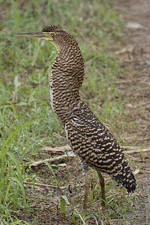 Immature Male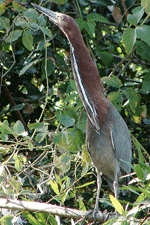 Tiger Heron