Feather Lines; Whiting Farms | Metz | Keough | Ewing | Collins | Darbee Duns | RIR | Indian Necks | CDL | Bugger Hackle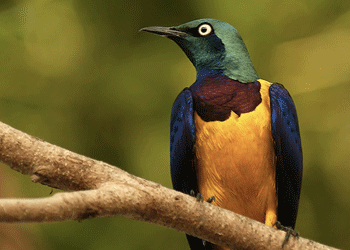 Golden-Breasted Starling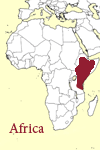 A nervious bird by nature, one can't help but be struck by such a staring eye and brilliant metalic colors. At home in the grassland, savanna, and shrubland, once disturbed , they are quick to raise the alarm with a whistling chatter. Sexes are similar in color, females nest in tree holes and lays between 3 and 5 pale green speckled eggs.
Cosmopsarus regius


Tying with Golden-Breasted Starling Feathers

This is a not so often seen or used bird for the tier. However, there are a number
of feathers useable for alternatives to say, toucan, those being the golden breast feathers. These feathers make great body veilings and tails on salmon flies.
Because of the iridescent quality of the body plumage, Defeo style nymphs can be tied using these feather rather than the more expensive Riflebird feathers. Other artistic possibilities abound from this bird.
full skins
fly patterns
links to other exotics
Golden-Breasted Starling
$0.00

Full Skin

Although not the best skining job, this bird in in nice feather. The color is good and no pin feathers.


To check out, click the "view cart" button
I'm looking for pictures of flies and the recipies you used to tie them. Please give me a call or email me for more information.
Thanks!
Softbills

Whoever named this group of birds "softbills" was obviously never close enough to be pinched by a toucan or speared by a heron's beak!

Members of this group vary considerably. here you will find everything from turacos that feed exclusivly on leaves and petals to carnivores kingfishers.

However, one thing all have in common is that as babies, they are all born helpless and dependent on their parents care.


Softbill Species:



pond heron


Quick links to other exotics: