Feather Lines; Whiting Farms | Metz | Keough | Ewing | Collins | Darbee Duns | RIR | Indian Necks | CDL | Bugger Hackle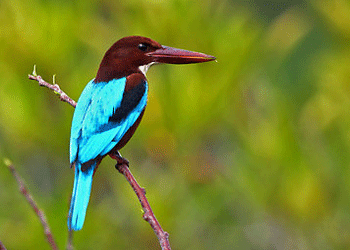 White-breasted Kingfisher
This larger kingfisher can be seen perching high on a wire or open branch,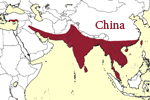 busy watching below for any unsuspecting frog, fish, or even small snake. They tunnel into the side of an earth bank to build their nest, clutch size is 4-7 and both parents hunt and care for the young.
Halcyon smyrnensis


Tying with Asian Kingfisher Feathers

The common Asian Kingfisher most likely exists in most tier's arsenal of materials. Traditionally, the blue rump and body feathers have been used for sides, cheeks, tail veilings and throats in classic salmon flies.
Trout flies have also used these feathers. Creative and artistic tiers will find many more uses for other feathers off this bird such as wing coverts used as whole feather wing salmon flies.
Crafters will also find that the wing coverts have white patches on some of the wing feathers giving a contrasting look to new projects.
full skins
fly patterns
links to other softbills
Asian Kingfisher
$45.00

These are nice skins, no damage or chipping and clean.


To check out, click the "view cart" button
I'm looking for pictures of flies and the recipies you used to tie them. Please give me a call or email me for more information.
Thanks!
Softbills

Whoever named this group of birds "softbills" was obviously never close enough to be pinched by a toucan or speared by a heron's beak!

Members of this group vary considerably. here you will find everything from turacos that feed exclusivly on leaves and petals to carnivores kingfishers.

However, one thing all have in common is that as babies, they are all born helpless and dependent on their parents care.


Softbill Species:



pond heron


Quick links to other exotics: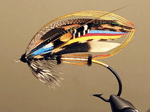 Jock Scott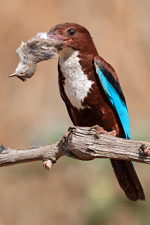 feeding on a small wren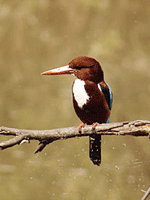 breeding season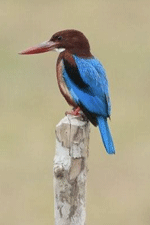 patiently waiting...