Feather Lines; Whiting Farms | Metz | Keough | Ewing | Collins | Darbee Duns | RIR | Indian Necks | CDL | Bugger Hackle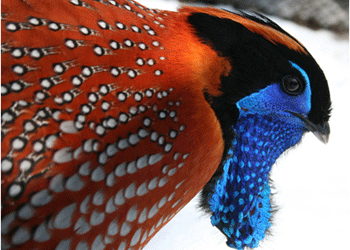 Temminck's Tragopan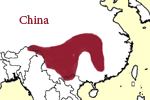 The display of a temminck's male is a marvel of nature. Crouched behind a fallen log, out of sight from an aproaching female, he bobbs up and down, making a clicking sound. With each bobb, his red and blue lappet grows larger. Suddenly, with an intense hissing noise, he fires up over the log....
Tragopan temminckii


Tying with Temminck's Tragopan Feathers

Not quite as popular as the Satyr, the Temminck's still gives the creative tyer many opportunities for using these feathers for wings, sides, cheeks, tails and throats. Steelhead and streamer tiers will find many uses for the grey breast feathers.
Feather Packs
Temmink's Feather Packs

Throat Feathers - 12 feathers / $3.50

From tails to wings, these are a feather called for in many patterns. Also available in dyed colors.

Spotted Neck Feathers -12 feathers / $3.50

These are the feather from the back of the neck on a male in breeding plumage.

Breast Feathers / medium - 12 feathers / $3.50

The breast feathers on the males have long soft fibers. Also available in yellow from the Yellow Golden.

Breast Feathers / large - 12 feathers / $3.50

The color of these feathers is far nicer than what you are seeing in this picture.

Shoulder Feathers - 12 feathers / $2.50

The color of these feathers is far nicer than what you are seeing in this picture.

Back Feathers - 6 matched pair / $9.50

The color of these feathers is far nicer than what you are seeing in this picture.

Tail Slips - 12 feathers / $2.50

The color of these feathers is far nicer than what you are seeing in this picture.


To check out, click the "view cart" button

back to exotics
Feather Assortments
Feathers - Male
$.00

Feather Assortment - Male

Here are some feathers from a breeding male. I've put together a few different assortments to choose from.

Click the image for a larger view.

Eyed Feathers

15 pr breast feathers (assorted sizes)- $40

15 pr back feathers- $30

20 pair mixed - $35

50 feather assortment - $50


To check out, click the "view cart" button
Feathers - Female
$.00

Feather Assortment - Female

And here is an assortment from the female. The feathers certainly are not as striking as the males, however, the mottling on the hen feathers make them quite attractive.

Click the image for a larger view

30 feather assortment - $35


To check out, click the "view cart" button
Full Skins
Temminck's - Males
$.00

Heritage turkeys have some of the most unexpected patterning in their tail feathers.

This is a perfectly matched set of tail quills harvested from a Pencilled Palm Tom as soon as they were prime.

The pencilling is perfect, and other than some slight freying on the tips, both are in perfect condition.


To check out, click the "view cart" button
Temminck's - Males
$.00

Heritage turkeys have some of the most unexpected patterning in their tail feathers.

This is a perfectly matched set of tail quills harvested from a Pencilled Palm Tom as soon as they were prime.

The pencilling is perfect, and other than some slight freying on the tips, both are in perfect condition.


To check out, click the "view cart" button
Temminck's - Males
$.00

Heritage turkeys have some of the most unexpected patterning in their tail feathers.

This is a perfectly matched set of tail quills harvested from a Pencilled Palm Tom as soon as they were prime.

The pencilling is perfect, and other than some slight freying on the tips, both are in perfect condition.


To check out, click the "view cart" button
Temminck's - Female
$.00

Temminck's hens tend to vary quite a bit in color. They range from fawn to mahogany. This is more rusty, resembling the hen in the picture on the right.


To check out, click the "view cart" button
Temminck's - Female
$.00

Temminck's hens tend to vary quite a bit in color. They range from fawn to mahogany. This is more rusty, resembling the hen in the picture on the right.


To check out, click the "view cart" button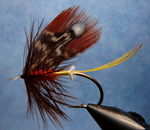 Full feather wing fly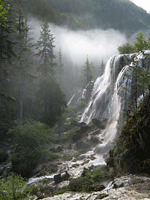 Sichuan Mountains
Temmink's Hen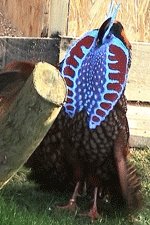 Male in Full Display
Tragopans
Five Subspecies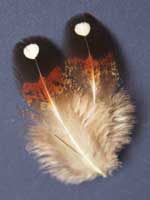 Western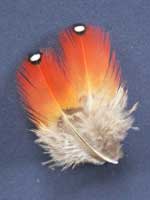 Satyr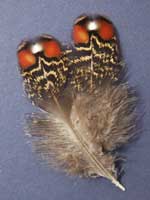 Blyth's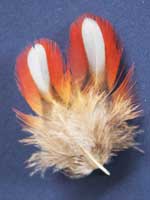 Temmink's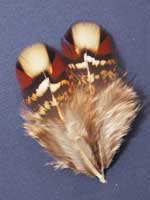 Cabot's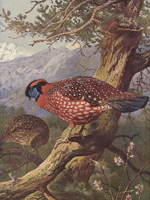 Print
Body Feathers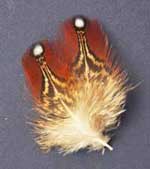 Neck Feathers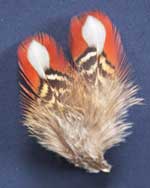 Breast Feathers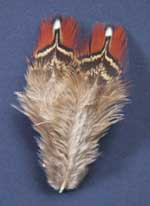 Back Feathers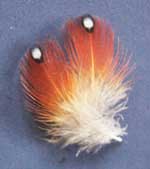 Small Neck Feathers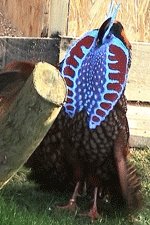 Displaying
Hen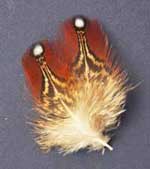 Neck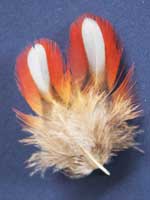 Temmink's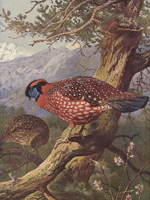 Cabot's