Feather Lines; Whiting Farms | Metz | Keough | Ewing | Collins | Darbee Duns | RIR | Indian Necks | CDL | Bugger Hackle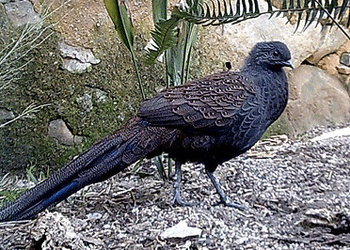 Rothschild's Peacock Pheasant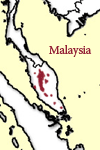 The Mountain Peacock Pheasant is the highest ranging member in this family and also the largest. It's chosen haunts are the humid, dark ravines of the higher mountains. The male's display is impressive, he makes a dramatic appearance from behind a shrub - and yet the hen seems to ignore the whole performance.
Polyplectron inopinatum


Tying with Rothschild's Peacock Pheasant Feathers

A rare bird up until recently. Captive bred birds are now available to the tier and crafter.
Artistic fly tiers and craftspeople can find many of the same uses as the other peacock pheasants.
With it's dark brown plumage and blue-green eyes striking effects can be achieved. Jewlery and dream catchers are but a few things where these beautiful feathers can be used. As with any of the peacock pheasants, great butterfly patterns can be made by creative thinkers.
The center tail feather on the males don't have eyes, they are similar in color to the pair of tail coverts in the picture on the right. However, the side-tails make up for that and as you can see in the picture here, the eye pattern is quite large.
Feather Packs
Eyed Feather Packs

Small - 5 matched pair / $15.00

From tails to wings, these are a feather called for in many patterns. Also available in dyed colors.

Medium- 5 matched pair / $20.00

These are the feather from the back of the neck on a male in breeding plumage.

Large- 5 matched pair / $25.00

The breast feathers on the males have long soft fibers. Also available in yellow from the Yellow Golden.

X-Large - 3 matched pair / $30.00

The color of these feathers is far nicer than what you are seeing in this picture.


To check out, click the "view cart" button

back to exotics
Feather Assortments
Eyed Body Feathers
$0.00

Collecter Set Includes:

Eyed Feathers

1 pr x-large - $15

3 pr large - $30

5 pr medium - $40

3 pr small - $15

10 pair mixed - $60


To check out, click the "view cart" button
Tail Feathers
Tail Coverts
$0.00

Collecter Set Includes:

Tails

double-eyed pairs - $20 to $60

single-eyed pairs - $5 to $15

tail coverts - $20 to $45

Full assortment 25 pair - $115


To check out, click the "view cart" button
Tail Quills
$0.00

Collecter Set Includes:

Tails

double-eyed pairs - $20 to $60

single-eyed pairs - $5 to $15

tail coverts - $20 to $45

Full assortment 25 pair - $115


To check out, click the "view cart" button
Collector Sets
Collecter Set - Male
$0.00

Collecter Set Includes:

Eyed Feathers

1 pr x-large - $15

3 pr large - $30

5 pr medium - $40

3 pr small - $15

10 pair mixed - $60

Tails

double-eyed pairs - $20 to $60

single-eyed pairs - $5 to $15

tail coverts - $20 to $45

Full assortment 25 pair - $115


To check out, click the "view cart" button
Collecter Set - Female
$0.00

Collecter Set Includes:

Body Feathers

30 mixed body feathers- $40

Tails

eyed side tails - $12

tail coverts - $5

Full assortment 15 pair - $35


To check out, click the "view cart" button
Full Skins
Rothschild's

Peacock Pheasant
$0.00

Here is an adult Grey male, I guessing 3 to 4 years old. This bird is just coming out of a moult, the color is vibrant and the edges of the feathers are fresh.

With game farm raised birds, the best quality feathers come from just such a bird. No wear marks from rubbing on the wire or fading from the sun.

The tail has not grown all the way in, but as you can see, the covers and tail quills are long enough to any pattern.


To check out, click the "view cart" button
Full Skin - Male
$175.00

Here is an adult Grey male, I guessing 3 to 4 years old. This bird is just coming out of a moult, the color is vibrant and the edges of the feathers are fresh.

With game farm raised birds, the best quality feathers come from just such a bird. No wear marks from rubbing on the wire or fading from the sun.

The tail has not grown all the way in, but as you can see, the covers and tail quills are long enough to any pattern.


To check out, click the "view cart" button
Full Skin - Female
$0.00

Here is an adult Grey male, I guessing 3 to 4 years old. This bird is just coming out of a moult, the color is vibrant and the edges of the feathers are fresh.

With game farm raised birds, the best quality feathers come from just such a bird. No wear marks from rubbing on the wire or fading from the sun.

The tail has not grown all the way in, but as you can see, the covers and tail quills are long enough to any pattern.


To check out, click the "view cart" button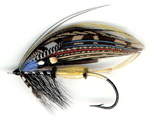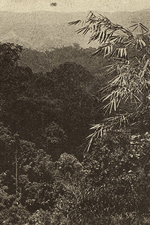 Natural habitat of the Mountain Peacock Pheasant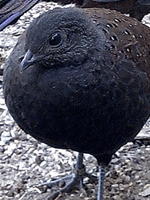 Rothchild's hen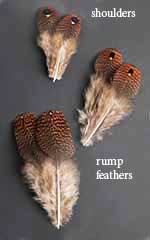 shoulder and rump
feathers
shoulder feathers



Full display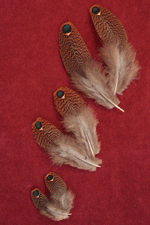 Eyed feathers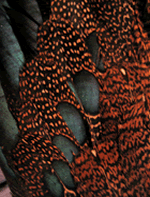 Tail coverts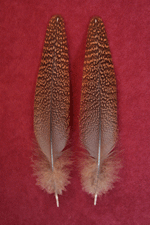 coverts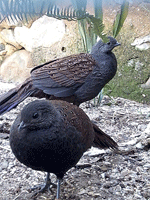 Breeding pair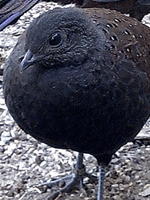 Rothchild's hen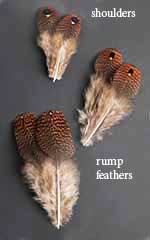 shoulder and rump
feathers
shoulder feathers



Full display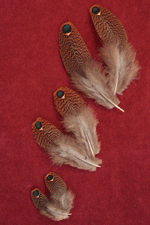 Eyed feathers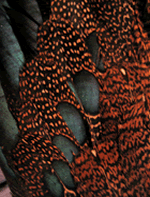 Tail coverts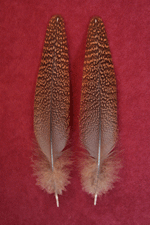 coverts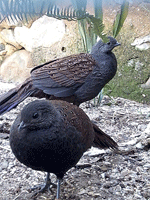 Breeding pair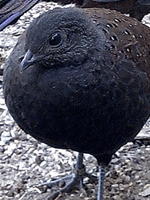 Rothchild's hen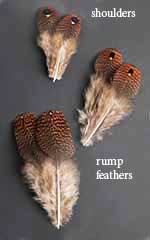 shoulder and rump
feathers
shoulder feathers



Full display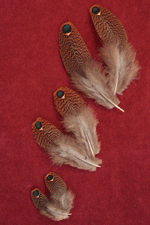 Eyed feathers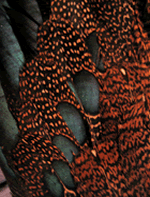 Tail coverts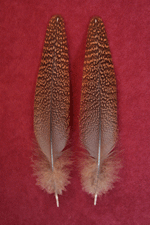 coverts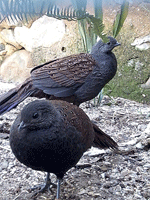 Breeding pair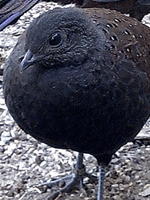 Rothchild's hen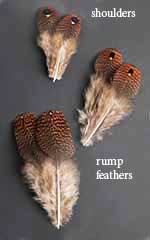 shoulder and rump
feathers
shoulder feathers



Full display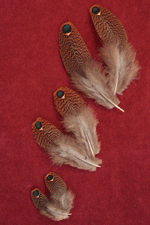 Eyed feathers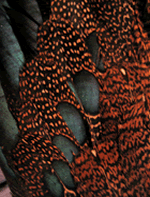 Tail coverts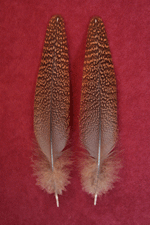 coverts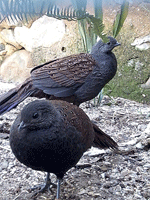 Breeding pair