Feather Lines; Whiting Farms | Metz | Keough | Ewing | Collins | Darbee Duns | RIR | Indian Necks | CDL | Bugger Hackle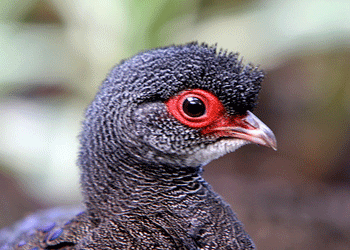 Germain's Peacock Pheasant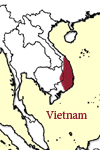 The hen's well defined diamond shaped ocelli clearly distinguish this breed from the numerous subspecies of Grey, convincing M. Germain that this was a seperate species. Confined to the very hot and humid forests of Vietnam, males are darker and lack the crest, the ocelli are more numerous, and the facial skin is red.
Polyplectron germaini


Tying with Germain's Peacock Pheasant Feathers

Not quite as well known as the Grey but nonetheless beautiful. The whites are whiter and the greys are darker, almost charcoal in color.
The eyed feathers on the males are not only a different color than those on a Grey, but the feather stem is more visable, dividing the eye in half. The dark field contrasts well with the blue-green ocelli.
Unique to this species is the distinct metalic purple diamand eyes on the hen feathers. This is the only species of peacock pheasant where the hen has these eyed feathers.
Feather Packs
Eyed Feather Packs

Small - 5 matched pair / $15.00

From tails to wings, these are a feather called for in many patterns. Also available in dyed colors.

Medium- 5 matched pair / $20.00

These are the feather from the back of the neck on a male in breeding plumage.

Large- 5 matched pair / $25.00

The breast feathers on the males have long soft fibers. Also available in yellow from the Yellow Golden.

X-Large - 3 matched pair / $30.00

The color of these feathers is far nicer than what you are seeing in this picture.


To check out, click the "view cart" button

back to exotics
Feather Assortments
Eyed Body Feathers
$.00

Collecter Set Includes:

Here is an adult Grey male, I guessing 3 to 4 years old. This bird is just coming out of a moult, the color is vibrant and the edges of the feathers are fresh.

Eyed Feathers

5 pr jumbo - $40

5 pr large - $40

5 pr medium - $30

5 pr small - $20

5 pr x-small - $40

15 pair mixed - $75


To check out, click the "view cart" button
Tail Feathers
Tail Coverts
$.00

Collecter Set Includes:

Here is an adult Grey male, I guessing 3 to 4 years old. This bird is just coming out of a moult, the color is vibrant and the edges of the feathers are fresh.

Coverts

3 pr tail coverts - $30


To check out, click the "view cart" button
Tail Quills
$.00

Collecter Set Includes:

Here is an adult Grey male, I guessing 3 to 4 years old. This bird is just coming out of a moult, the color is vibrant and the edges of the feathers are fresh.

Tails

center pairs - $85

double-eyed pairs - $25

single-eyed pairs - $15


To check out, click the "view cart" button
Collector Sets
Collecter Set - Male
$0.00

Collecter Set Includes:

Eyed Feathers

5 pr large - $40

5 pr medium - $30

5 pr small - $20

15 pair mixed - $75

Tails

center pairs - $85

double-eyed pairs - $25

single-eyed pairs - $15

tail coverts - $30

Full assortment 25 pair - $95


To check out, click the "view cart" button
Collecter Set - Female
$0.00

Collecter Set Includes:

Body Feathers

30 mixed body feathers- $35

Tails

center pairs - $40

side tails - $12

tail coverts - $15/pr

Full assortment 25 pair - $50


To check out, click the "view cart" button
Full Skins
Full Skin - Male
$.00

Here is an adult Grey male, I guessing 3 to 4 years old. This bird is just coming out of a moult, the color is vibrant and the edges of the feathers are fresh.

With game farm raised birds, the best quality feathers come from just such a bird. No wear marks from rubbing on the wire or fading from the sun.

The tail has not grown all the way in, but as you can see, the covers and tail quills are long enough to any pattern.


To check out, click the "view cart" button
Full Skin - Female
$.00

Still working on this one!


To check out, click the "view cart" button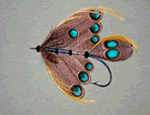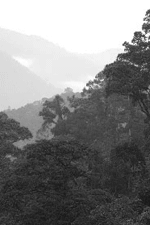 dense mountain habitat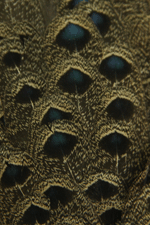 hen's diamond shaped eyes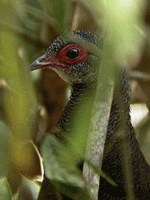 Germain's male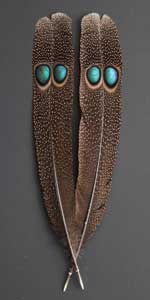 Double eyed tails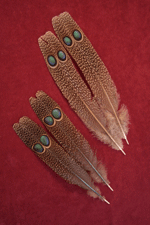 Comparing Tail Coverts
germain's is on the lower left and grey's is the pair on the upper right
Rump Feathers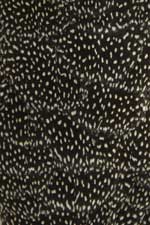 male rump feathers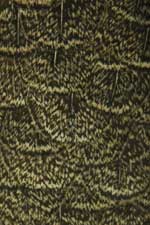 female rump feathers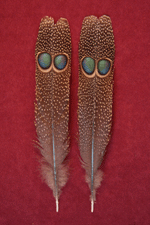 tail coverts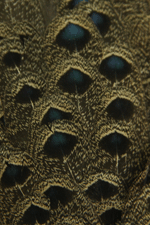 hen's diamond shaped eyes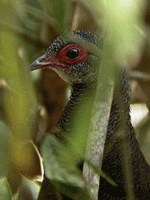 Germain's male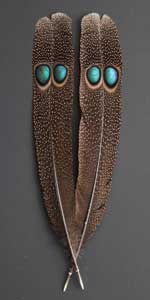 Double eyed tails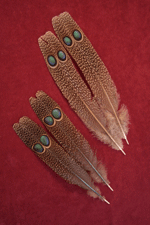 Comparing Tail Coverts
germain's is on the lower left and grey's is the pair on the upper right
Rump Feathers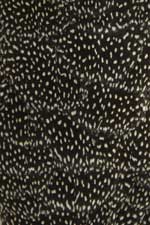 male rump feathers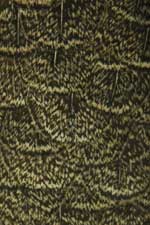 female rump feathers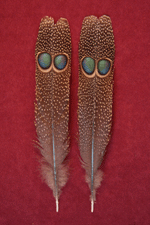 tail coverts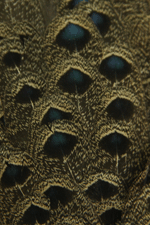 hen's diamond shaped eyes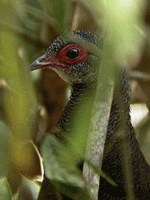 Germain's male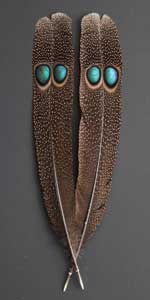 Double eyed tails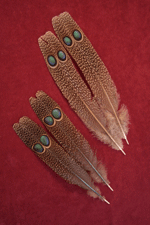 Comparing Tail Coverts
germain's is on the lower left and grey's is the pair on the upper right
Rump Feathers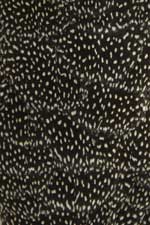 male rump feathers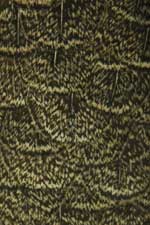 female rump feathers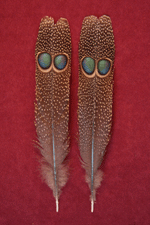 tail coverts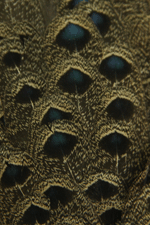 hen's diamond shaped eyes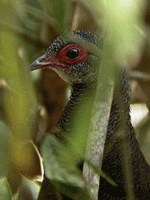 Germain's male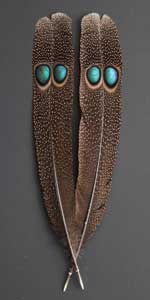 Double eyed tails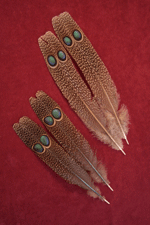 Comparing Tail Coverts
germain's is on the lower left and grey's is the pair on the upper right
Rump Feathers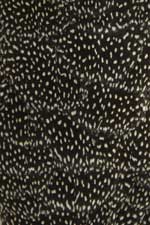 male rump feathers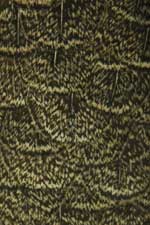 female rump feathers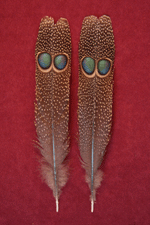 tail coverts