Feather Lines; Whiting Farms | Metz | Keough | Ewing | Collins | Darbee Duns | RIR | Indian Necks | CDL | Bugger Hackle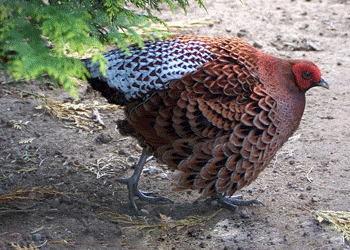 Copper Pheasants
Known to the Japanese as Yamadori, these mostly sedentary gamebirds inhabit the dense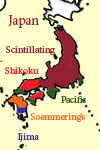 undergrowth of the mountainous conifer forests of Japan. Five distict subspecies of copper pheasant are recognized, the Scintillatings are lightest and found furthest north while the southern species are darker and more richly colored. There is a great deal of local variations and many individuals exhibit transitional chatacteristics.
Syrmaticus soemmerringii ijimae


Tying with Copper Pheasant Feathers

Three species of the five subspecies are of interest here. They are the Ijima, the darkest over all, with the exception of a snow white rump patch; the Scintillating, which is the lightest in color; and the Sommerring, which has the truest copper-color over all.
Fly tying literature has not referred to this species as a material every fly tier must have in their arsenal. However, this does not mean that it is not desirable for the creative/artistic tier.
There are lots of feathers to both the creative tier and the creative craftsperson that can be used to make beautiful things.
Wing coverts can be used for full feather wing salmon flies as well as body feathers for cheeks and sides. The trout tier might find just the right color for those nymph or insect legs on wets and terrestrials. Of particular note, is that tails in great condition are hard to come by due to the pugnacious habits of captive birds.
Scintillating
Ijima
Soemmering's
collecter sets
fly patterns
links to more pheasants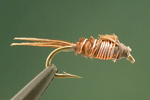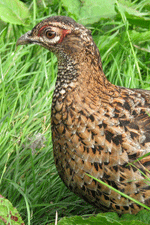 Ijima hen
Scintillating


Scintillating Male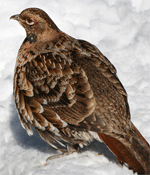 Scintillating Hen



Soemmering's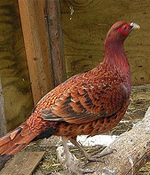 Soemmering's Male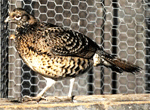 Soemmering's Hen
Lets compare rumps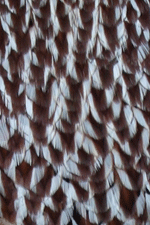 Scintillating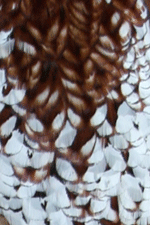 Ijima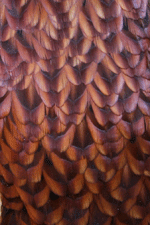 Soemmering's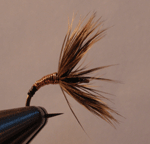 And how about breast feathers...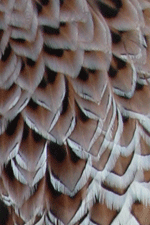 Scintillateing breast feathers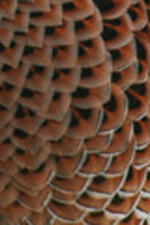 Ijima breast feathers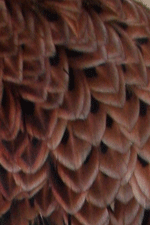 Scintillating breast feathers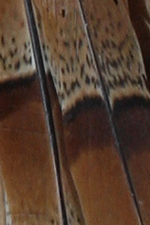 Scintillating Tails