Feather Lines; Whiting Farms | Metz | Keough | Ewing | Collins | Darbee Duns | RIR | Indian Necks | CDL | Bugger Hackle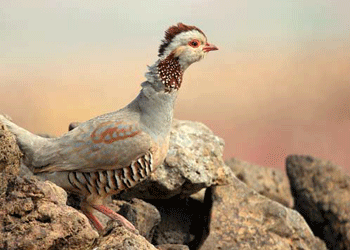 Barbary Partridge
This colorful member of the partridge family finds its home in the dry, open hill country of North Africa,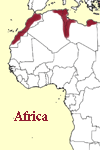 Gibralter, and the Canary Islands. Sexes are similar in color, males being slightly larger and have small spurs. As with other partridges, when disturbed, it prefers to run rather than fly. Breeding begins in early March, hens lay from 10 to 16 eggs, nest is a scantily lined scrape in the ground. There are 6 recognized subspecies, all similar in color.
Alectoris babara


Tying with Barbary Partridge Feathers

Although similar to to a Chukar, this bird has far more color and delicate patterns.
The barring on the flank feathers is finer, the breast and shoulders have more pastel coloring, and most noticable is the patterning on the head and neck.
full skins
fly patterns
links to other exotics
Barbary Partridge
$0.00

This guy might be missing a few tail and wing feathers, but other than that, he is in good feather - nice color and almost no wear on the feather tips.


To check out, click the "view cart" button
I'm looking for pictures of flies and the recipies you used to tie them. Please give me a call or email me for more information.
Thanks!
Partridge

There are 43 different breeds of partridge, some dull in color such as the rock partridge while others such as the crimson-headed partridge is among the brightest colored of any bird.

They are native to Europe, Asia, Africa, and the middle East. Not to confuse them with grouse, partidge are clean legged, having no feathers on their legs or feet.




Partridge Species:


Raul Raul

Snow Cock

Bamboo


Quick links to other exotics: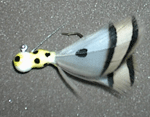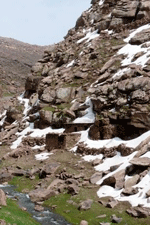 natural habitat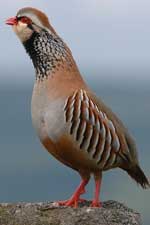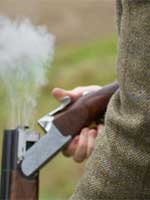 an english hunt