Feather Lines; Whiting Farms | Metz | Keough | Ewing | Collins | Darbee Duns | RIR | Indian Necks | CDL | Bugger Hackle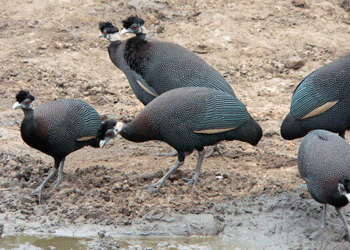 Zambizi Crested Guinea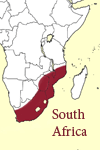 This species inhabits thicker forested areas, more than other guinea, they travel in flocks numbering 20 or more foraging for insects and fallen fruit. They are monogamous and form pair bonds. Gathering in large groups at waterholes, they are at their most vunerable and scatter at the slightest alarm.
Guttera puncherani edouardi


Tying with Zambizi Crested Guinea Feathers

This species differs from the Kenya Crested in that the spots are more white than blue and the background is blacker rather than dark blue.
Uses for these feathers are the same as the Kenya Crested.
Feather Packs
Body Contour Feathers
$0.00

Feather Packs

On first inspection, the color and pattern on the body feathers are very close to those on Kenya Crested.

However, check out the close up of the body feather on the right.

The dots are white and if you look closely, you will see hints of mahagony running through the dark background.

x-large - $/pr

large - $/pr

medium - $/pr

small - $/pr

x-small - $/pr


To check out, click the "view cart" button
Wing Quills - Spotted
$0.00

Paired Feathers

Each bird has 3 good pair of wing quills with a white edge, the others are a cobalt blue with pale blue spots and lines.
Wing Quills - White Laced
$0.00

Paired Feathers

Each bird has 3 pair of wing quills with a white edge, the others are a cobalt blue with pale blue spots and lines.


To check out, click the "view cart" button
Collector Sets
Collector Set
$0.00

25 Pair Feather Assortment




Body Contour Feathers

x-large - 1 pair

large - 3 pair

medium - 7 pair

small - 5 pair

x-small - 3 pair

crest feathers - 7

Wings and Tails

Blue Spotted - 2 pair

White Laced - 1 pair

Tail Quills - 1 pair

Wing Coverts - 3 pair


To check out, click the "view cart" button
Full Skins
Zambizi Crested
$0.00

Full Skin

Here is a bird that was collected on a hunting expedition to Africa. It was skined and salted in camp and was brought back to be prepared as a trophy mount.

However, as you can see the skinning job prevented this. Other than some staining on the middle of the back, how could you find a better specimen?

Run your curser over the thumbnails below to see a larger image. Click on the image on the left to open a larger window.


To check out, click the "view cart" button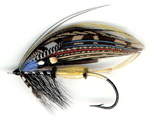 Joc Scott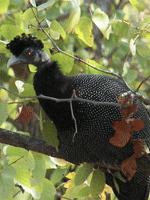 Perching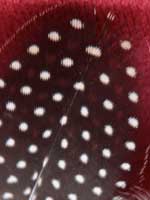 Shoulder Feather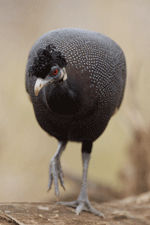 Feeding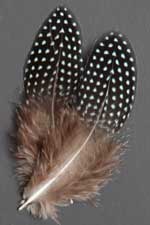 Shoulder Feathers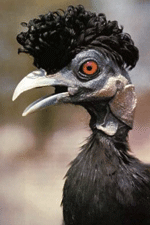 Pompadore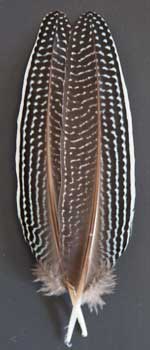 Wing Quills - White Laced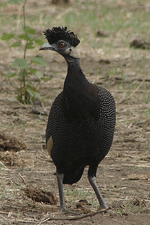 Breeding Season
Spotted Wing Quills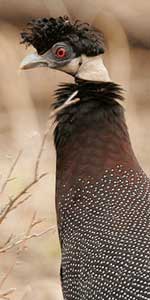 item