Feather Lines; Whiting Farms | Metz | Keough | Ewing | Collins | Darbee Duns | RIR | Indian Necks | CDL | Bugger Hackle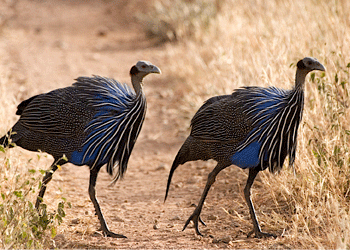 Vulturine Guinea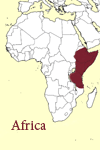 The largest of all guineafowl, these long legged, bare headed, noisey fowl prefer the dry savannas and shrublands of forest edge. Their diet consists of seeds, shoots, fallen fruit and insects. Females nest on the ground, in low vegitation. Despite the open habitat, they tend to keep to cover, and roost in small groups at night to avoid preditors.
Acryllium vulturinum


Tying with Vulturine Guinea Feathers

The lanceolate neck and breast feathers make great wings on streamers and steelhead flies.
The body feathers have a purple background with white spots surrounded by black as the body feather pattern. These feathers make stunning whole feather wing salmon flies.
The cobalt blue flank feathers are excellent for throats, body hackling and collars on salmon and steelhead flies. Crafters will find so many uses for this bird such as dream catchers and millinery adornments.
Feather Packs
Body Contour Feathers
$0.00

Feather Assortment - 25 Pairs

Unlike other species of guineas, there is quite a variety of color patterns on this bird. The spotted feathers on the lower left in the picture are from the rump and are darker than those on the upper back, the pair on the lower right.

Body Contour Feathers

x-large - 1 pair

large - 3 pair

medium - 7 pair

small - 5 pair

x-small - 3 pair

crest feathers - 7


To check out, click the "view cart" button
Lilac Spotted Feathers
$0.00

Paired Feathers

Each bird has 3 pair of wing quills with a white edge, the others are a cobalt blue with pale blue spots and lines.

Lilac Spotted Feathers

large - 1 pair

medium - 3 pair

mixed - 7 pair
Cobalt Spotted Feathers
$0.00

Feather Packs

Each bird has 3 pair of wing quills with a white edge, the others are a cobalt blue with pale blue spots and lines.

Body Contour Feathers

x-large - 1 pair

large - 3 pair

medium - 7 pair

small - 5 pair
Rump Feathers
$0.00

Paired Feathers

Each bird has 3 pair of wing quills with a white edge, the others are a cobalt blue with pale blue spots and lines.

Rump Feathers

x-large - 1 pair

large - 3 pair

medium - 7 pair

small - 5 pair
Lilac Breast Feathers
$0.00

Paired Feathers

Each bird has 3 pair of wing quills with a white edge, the others are a cobalt blue with pale blue spots and lines.

Lilac Breast Feathers

large - 3 pair

medium - 7 pair

small - 5 pair


To check out, click the "view cart" button
Elvers
$0.00

Paired Feathers

Three pair of wing quills have a beautiful violet border on the outer edge of the feather. The rest are a dark blue-grey with fine white lines.

Elvers

x-large - 1 pair

large - 3 pair

medium - 7 pair

small - 5 pair

x-small - 3 pair
Back Feathers
$0.00

Paired Feathers

Each bird has 3 pair of wing quills with a white edge, the others are a cobalt blue with pale blue spots and lines.

Barred Back Feathers

large - 3 pair

medium - 7 pair

small - 5 pair
Wing Quills - Cobalt Blue
$0.00

Paired Feathers

Each bird has 3 pair of wing quills with a white edge, the others are a cobalt blue with pale blue spots and lines.

Wing Quills - Covalt Blue

large - 3 pair

medium - 7 pair

small - 5 pair
Wing Quills - Laced
$0.00

Paired Feathers

Each bird has 3 pair of wing quills with a white edge, the others are a cobalt blue with pale blue spots and lines.

Wing Quills - Laced

large - 3 pair

medium - 7 pair

small - 5 pair


To check out, click the "view cart" button
Collector Sets
Vulturine Guinea
$0.00

25 Pair Collecter Sets




Body Contour Feathers

x-large - 1 pair

large - 3 pair

medium - 7 pair

small - 5 pair

x-small - 3 pair

crest feathers - 7

Wings and Tails

Blue Spotted - 2 pair

White Laced - 1 pair

Tail Quills - 1 pair

Wing Coverts - 3 pair


To check out, click the "view cart" button
Full Skins
Vulturine Guinea
$0.00

Full Skin

Unlike other species of guineas, there is quite a variety of color patterns on this bird. The spotted feathers on the lower left in the picture are from the rump and are darker than those on the upper back, the pair on the lower right.


To check out, click the "view cart" button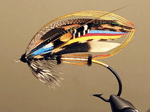 Jock Scott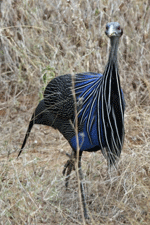 Breeding Plumage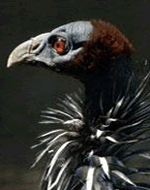 Vulturine Hen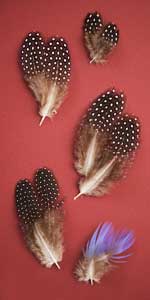 item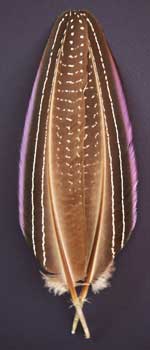 item
Body Contour Feathers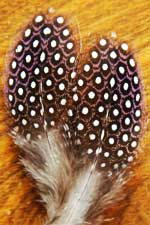 item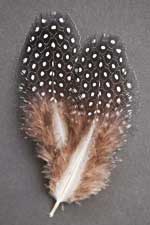 item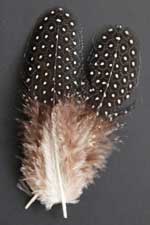 item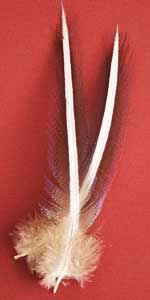 item
item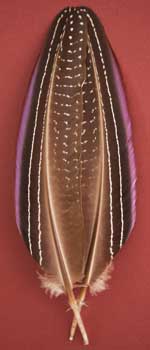 item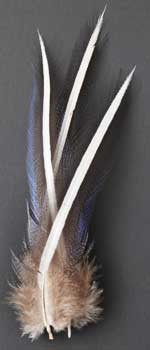 item
item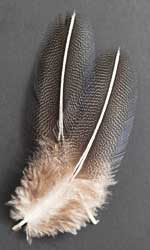 item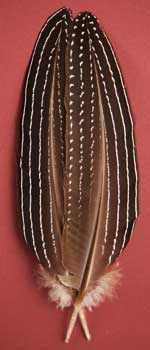 item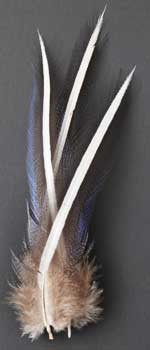 item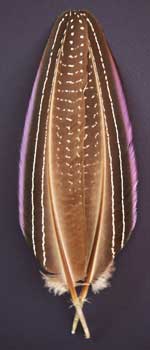 item