Feather Lines; Whiting Farms | Metz | Keough | Ewing | Collins | Darbee Duns | RIR | Indian Necks | CDL | Bugger Hackle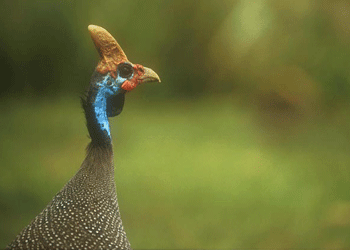 Helmeted Guinea
These high energy, vocal birds find their home in the warm, dry, open habitats south of the Sahara. They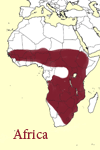 prefer brush and shrubbed grassland. It usually breeds in or just after the rainy season and can lay up to 20 eggs. Nest of up to 50 eggs have been found, presumably laid by more than one female. They fly to communal roosts at night. There are five subspecies recognized, check out the chart on the right.
Numida meleagris


Tying with Helmeted Guinea Feathers

To see how feather color and pattern differ between domesticated and wild type birds, check out the two feathers in the picture. They are a perfectly matched pair.
However, the one on the left is from a bird collected on a hunt in Africa, while the one on the right is from a domesticated bird. Notice how much more brilliant the wild type pattern and color is in comparison. For a larger image, see the two pair on the right, just below the 5 subspecies picture.
There again, in both pair, the feather on the left is from a wild bird while the feather on the right is the corresponding match, but from a domesticated bird. The blacks are blacker, and the whites are whiter. The feathers on a wild type helmeted are far more brilliant.
feathers
full skins
fly patterns
links to other guineafowl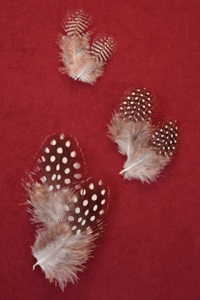 Body Feathers
These are feathers taken from a Reichenowi collected on a hunt to Africa. The small feathers are from the neck, the middle pair is from the back, and the larger pair on the bottom left are flank feathers.
x-large - $/pr
large - $/pr
medium - $/pr
small - $/pr
x-small - $/pr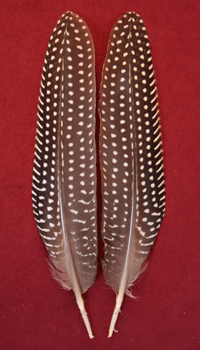 Wing Quills
There quills are beautifully marked. They are some of the most spectacular feathers on the bird and are far more brilliant than those from a domestic bird.
large - $
medium - $
small - $
Feather Assortment
I'm putting together an assortment of feathers from this bird that will include various sizes of paired body feathers and wing quills. Should have it up soon.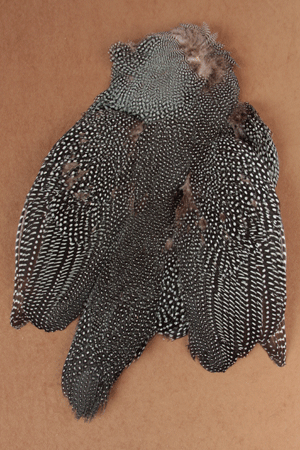 Full Skin
This bird was collected on a hunt to Africa. The skining job was poor so it was not able to make it into a full mount. But the feathers are in perfect condition and color is exquisite.
Run your curser over the thumbnails below to see a larger image. Click on the image on the left to open a larger window.
I'm looking for pictures of flies and the recipies you used to tie them. Please give me a call or email me for more information.
Thanks!

Guineafowl

All 6 species of guineafowl are native to Africa. With the exception of the helmeted and vulturine, they are predominatly forest birds.

Only the hemeted has been domesticated and today is commonly seen around farm buildings. They can't be missed, just the slightest concern will set them off chattering hysterically.



Breeds:


Quick links to other exotics: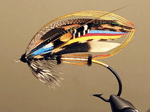 jock scott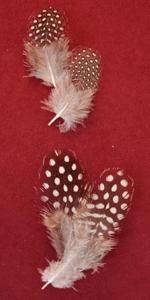 wild type on the left